Layout Builder
Vermont Law and Graduate School invites leaders in the fields of environmental, energy, agriculture, animal advocacy, and international environmental law and journalism to serve as Distinguished Summer Scholars and Media Fellows in residency during the VLGS Summer Session. Each visiting scholar or fellow delivers a public lecture, participates in informal social events on campus, and is available to meet with students and faculty individually. These distinguished visitors are a significant intellectual resource for our summer students and also offer valuable networking opportunities.
2023 Distinguished Scholars
Environmental Law Scholar
Warigia Bowman , Associate Professor of Law; Director of Sustainable Energy and Resources Law, University of Tulsa College of Law
With extensive law and policy experience in local, state and federal government, as well as in the non-profit sector, Warigia M. Bowman teaches water law, natural resources law, and administrative law at the University of Tulsa College of Law. She was a Harry S. Truman Scholar at Columbia College, the Barbara Jordan Scholar at the LBJ School of Public Affairs, and the Oppenheimer Scholar at the Hauser Scholar for Nonprofit Organizations at the Kennedy School, where she earned her doctorate.
An honors graduate of the University of Texas School of Law, Bowman clerked for Justice Jack Hightower of the Texas Supreme Court, and served as an Honors Trial Attorney in the Environmental and Natural Resources Division of the US Department of Justice under Attorney General Janet Reno.

Before coming to the University of Tulsa College of Law, Bowman has published widely on telecommunications and regulatory issues and has consulted for the Kenyan Government, USAID, the United Nations, and the US State Department. Before joining the University of Tulsa, she taught at the American University in Cairo, Egypt during the Revolution of 2011, as well as at the University of Mississippi and the University of Arkansas.

The University of Tulsa College of Law's Warigia Bowman is a widely published expert on public policy, infrastructure, water and energy. Bowman, along with 34 interdisciplinary researchers , was recently awarded part of a multi-million National Science Foundation (NSF) grant, administered by the Established Program to Stimulate Competitive Research (EPSCoR).

Bowman's work is multidisciplinary and is informed by the fields of history, law, science and technology studies, as well as political science. She is interested in energy, water, infrastructure, regulation, elections, and telecommunications, both in the Southwestern United States and in Africa.
Education:
Ph.D. - JFK School of Government, Harvard University
M.A. - LBJ School of Public Affairs, University of Texas at Austin
J.D. - School of Law, University of Texas at Austin
B.A. - Columbia College, Columbia University
Sustainable Agriculture and Food Systems Scholar
Marsha Echols , Professor of Law; Director of The World Food Law Institute, Howard University School of Law
Recognized as an expert in the fields of international food regulation, international trade, and dispute settlement, Dr. Marsha Echols teaches commercial, international business and trade, and world food law and has extensive international dispute resolution experience, having served terms as a Member of the United Nations Administrative Tribunal and as a Panelist in a World Trade Organization dispute between India and the European Union, among other activities. She was the Vice Chair of the International Dispute Resolution Committee on the DC Bar.
She is the author of several books and law journal articles about international food regulation and frequently is invited in the United States and internationally to speak about food law and policy, and international trade. Professor Echols has taught at the Graduate Institute of International Studies (HEI) in Geneva, Beijing, and Shenyang, China. She has lectured at HEC Paris, Harvard Law School, the University of Nantes in France and Eduardo Mondlane Faculty of Law in Mozambique, among others. She often participates on legal panels and on delegations to meetings of the Codex Alimentarius Commission.
Dr. Echols studied and worked in Belgium, and worked in Switzerland and Washington, D.C. before joining the faculty at Howard University School of Law. She also served as an international trade negotiator for the U.S. Department of Agriculture and specialized in international agribusiness transactions while engaged in the private practice of law.
Professor Echols is a member of the Council on Foreign Relations and the Secretary of State's Advisory Committee on Private International Law. She was the Liaison to UNIDROIT for the ABA Section of International Law, having previously served on the Section Council, and was a member of the Board of Directors of the Woodstock Theological Center at Georgetown University. She is a Board member of the Friends of the National Arboretum.
Education:
J.D. - Georgetown University Law Center
J.S.D. - Columbia University
LL.M. - Free University of Brussels
LL.M. - Columbia University
B.A. (Phi Beta Kappa) - Howard University
Animal Law Scholar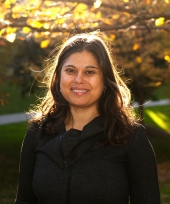 Angela Fernandez , Professor, Faculty of Law and Department of History, University of Toronto
A member of the Scholars Committee of the Brooks Institute for Animal Rights, Law & Policy and the collaborative research network BASAN (Brooks Animal Studies Academic Network), Angela Fernandez also sits on the Board of Advisors and is a Director of Animal Justice Canada. She is also a fellow with the Oxford Centre for Animal Ethics.
In addition to "Animals and the Law" (taught in the Fall of 2021 and 2022) and her legal history seminar ("Legal Archaeology: Studies of Cases in Context"), Professor Fernandez teaches Contracts. She is also the Chair of the Directed Research Program and is interested in supervising students on animal law and legal history topics.
Under Professor Fernandez's leadership, the University of Toronto is partnering with the Brooks Institute of Animal Rights, Law and Policy to publish the Canadian Animal Law Digest , a free twice-a-month update on developments in Canadian animal law.
Professor Fernandez also works with the Bora Laskin Law Library on updating the Animal Law Research Guide , launched in March 2022. It consists of lists of sources (books, chapters, book reviews, theses, journal articles, legislation, and leading cases) in Canadian animal law, perfect for students looking for a research paper topic or more senior scholars looking for orientation in terms of sources available in Canadian animal law.
Education:
J.S.D. - Yale Law School
LL.M. - Yale Law School
LL.B. & B.C.L. - National Program, McGill University
M.A. - Philosophy, Queen's University
B.A. - Philosophy, McGill University
Climate Law Scholar
Cale Jaffe , Professor of Law; Director of the Environmental Law and Community Engagement Clinic, University of Virginia School of Law
Through his work with the clinic, Cale Jaffe has represented a diverse array of public-interest clients, from a community group working to preserve an early 20th-century black schoolhouse in Cumberland County, Virginia to local governments filing amicus briefs in the Supreme Court of the United States.
Before joining the faculty at the University of Virginia, Jaffe was an attorney with the Southern Environmental Law Center, a leading environmental law and policy organization working at national, state, and local levels. From 2013 to 2016, he was the director of the center's Virginia office. In 2014, Jaffe was appointed by Virginia Governor Terry McAuliffe to serve on the Governor's Climate Change and Resiliency Update Commission. In 2020 he was appointed by Governor Ralph Northam to serve on the Virginia Coal and Energy Commission.
Jaffe graduated from Yale University with a B.A. in American studies. He earned his J.D. and an M.A. in legal history from the University of Virginia. While a student at Virginia, he served as editor-in-chief of the Virginia Environmental Law Journal and was a member of the Order of the Coif and the Raven Society. After graduation, he clerked for Judge Norman K. Moon of the U.S. District Court for the Western District of Virginia and Judge Roger L. Gregory of the U.S. Court of Appeals for the Fourth Circuit.
Education:
J.D. - University of Virginia School of Law
M.A. - University of Virginia
B.A. - Yale University
Energy Law Scholar
Gina Warren , Professor of Law; A.L. O'Quinn Chair in Environmental Studies; Co-director of the Environment, Energy, and Natural Resources Center (EENR), University of Houston Law Center.
Before joining the Law Center in 2016, Gina Warren taught at Texas A&M University School of Law (2011-2016) and Duquesne University School of Law (2010-2011). Warren also taught internationally at the University of Cologne in Cologne, Germany (2011) and in coordination with the University of Guanajuato in San Miguel de Allende, Mexico (2015). At the Law Center, she serves as a faculty mentor to 1L students and is involved in the Law Center's Pipeline program. Warren was voted the Student Bar Association Professor of the Year in 2018 and nominated as faculty graduation speaker by the class of 2020.

Her teaching and scholarship focus on the nexus between the environment, property, social justice, and energy. Her scholarship has appeared in the top 20 law review journals, books, and peer-reviewed journals. She is an internationally recognized scholar with publications in prominent journals such as the Boston University Law Review, theMaryland Law Review, the Missouri Law Review, the Nebraska Law Review, the Idaho Law Review (peer-reviewed), theUniversity of Cologne (Germany) Business Law Journal, and the Columbia Journal of Environmental Law. Warren's research has also been cited by the Colorado Supreme Court and showcased by the Washington Post, among others. Warren authored a book chapter on U.S.-Mexico relations in energy and the environment, and her scholarship has been excerpted in prominent energy and renewable energy textbooks.

She is the past chair of the Association of American Law Schools Section on Natural Resources and Energy Law, is a member of the Environmental Law, Property Law, and Women's Law sections, and has served for the last several years on the sections' sub-committees. Professor Warren has also served on many other committees and boards in her career, including being the law school representative for the Rocky Mountain Mineral Law Foundation, and an advisory board member for the Association of International Petroleum Negotiators. She is currently the chair of academic outreach for the Institute for Energy Law.

Professor Warren was in private practice for several years before entering academia. She worked as a litigator in land use, environment, and utility law for the international law firm of Perkins Coie based in Seattle, Washington as well as a litigator in a prominent regional firm Post & Schell based in Philadelphia, Pennsylvania. Professor Warren also completed a clerkship for the Honorable Michael Winkelstein of the Appellate Division of the Superior Court of New Jersey.
Education:
J.D. - Rutgers School of Law
B.S. - University of Arizona
2022 Distinguished Scholars
International Environmental Law Scholar:
Cinnamon Piñon Carlarne, Associate Dean for Faculty and Intellectual Life; Alumni Society Designated Professor of Law, The Ohio State University Moritz College of Law
Professor Cinnamon Piñon Carlarne is a leading expert in environmental law and climate change law and policy. Prior to joining the Moritz faculty, she was an assistant professor at the University of South Carolina School of Law.
From 2006-08, Professor Carlarne was the Harold Woods Research Fellow in Environmental Law at Wadham College, Oxford, where she was a member of the law faculty and the Centre for Socio-Legal Studies. She previously taught at the University of Cincinnati Center for Environmental Studies. Prior to that, she was an associate attorney in the Energy, Land Use, and Environment section at Akin Gump Strauss Hauer & Feld in Washington, DC.
Carlarne's scholarship focuses on the evolution of system of domestic and international environmental governance, with a particular focus on questions of domestic and international climate change law. Her scholarly work includes a book on comparative climate change law and policy with Oxford University Press; a Foundation Press text on climate law with Dan Farber; the Oxford Handbook of International Climate Change Law; an extensive series of journal articles and book chapters exploring questions of domestic and international environmental law; and a textbook on Oceans and Human Health and Well-being. She is on the editorial board for Transnational Environmental Law (Cambridge University Press) and the academic advisory board for Climate Law (IOS Press).
Carlarne earned her law degree from the University of California at Berkeley. She also holds a BCL and a master's degree in environmental change and management from the University of Oxford.
Environmental Law Scholar:
Blake Hudson, Dean, Cumberland College of Law, Samford University
Previously he served as the Samuel T. Dell Professor of Law and the Co-director of the Environmental & Land Use Law Program. Dean Hudson's recent research has focused on the intersection of land use law, policy, and planning with natural resource management, with particular emphasis on the role of forest management in combatting climate change and the implications of land development for long-term natural resource management. His research has also centered on the "commons" and the complicated role of private property rights and government institutions as solutions to commons dilemmas. He has further assessed how the issues of federalism and constitutional structure have the potential to both complicate and resolve land use and natural resource management issues at the state, federal, and international levels. His articles are forthcoming or have been published in the Washington and Lee Law Review, Indiana Law Journal, Georgia Law Review, Alabama Law Review, Florida Law Review, Hastings Law Journal, Arizona State Law Journal, University of Colorado Law Review, Tulane Law Review, Florida State University Law Review, Connecticut Law Review, and BYU Law Review, among a variety of other legal and peer-reviewed journals. His book, Constitutions and the Commons: The Impact of Federal Governance on Local, National, and Global Resource Management, was published by Resources for the Future/Earthscan in 2014. He is currently working on a comprehensive book on public and private forest science, law, policy, and management.
Dean Hudson obtained his bachelor's degree in both biology and history, as well as minors in pre-law and political science, at the University of Montevallo, where he was a scholar-athlete. He graduated with high honors from Duke University School of Law, and also graduated with a Master's degree in Environmental Science and Policy from Duke University's Nicholas School of the Environment. Prior to joining UF Law in 2020, Dean Hudson was an assistant professor of law at Stetson University College of Law from 2009 to 2012, held a joint appointment as a full professor of law with the LSU Law Center and the LSU College of the Coast & Environment from 2012 to 2017, and was the A.L. O'Quinn Chair in Environmental Studies at the Houston Law Center from 2017 to 2020). He practiced law from 2007-2009 at the law firm of Baker Botts in Houston, Texas.
Sustainable Agriculture and Food Systems Scholar:
Emily M. Broad Leib, Clinical Professor of Law; Director, Food Law and Policy Clinic of the Center for Health Law and Policy Innovation, Harvard Law School
As founder of the Harvard Law School Food Law and Policy Clinic, Emily Broad Leib launched the first law school clinic in the nation devoted to providing clients with legal and policy solutions to address the health, economic, and environmental challenges facing our food system. Broad Leib focuses her scholarship, teaching, and practice on finding solutions to some of today's biggest food law issues, aiming to increase access to healthy foods, eliminate food waste, and support sustainable food production and local and regional food systems. She has published scholarly articles in the California Law Review, Wisconsin Law Review, the Harvard Law & Policy Review, the Food & Drug Law Journal, and the Journal of Food Law & Policy, among others.
Broad Leib is recognized as a national leader in Food Law and Policy. She was named by Fortune and Food & Wine to their list of 2016's Most Innovative Women in Food and Drink. The list highlights women who had the most transformative impact in the last year on what the public eats and drinks. Broad Leib was one of the inaugural recipients of Harvard President Drew Faust's Climate Change Solutions Fund in 2015. Broad Leib's project, "Reducing Food Waste as a Key to Addressing Climate Change," was one of seven chosen from around the university to confront the challenge of climate change by leveraging the clinic's food law and policy expertise to identify systemic solutions that can reduce food waste, which is a major driver of climate change. 
Before joining the Harvard faculty, Broad Leib spent two years in Clarksdale, Mississippi as the Joint Harvard Law School/Mississippi State University Delta Fellow, serving as Director of the Delta Directions Consortium, a group of university and foundation leaders who collaborate to improve public health and foster economic development in the Delta. In that role, she worked with community members and outside partners to design and implement programmatic and policy interventions on a range of health and economic issues in the region, with a focus on the food system. She received her B.A. from Columbia University and her J.D. from Harvard Law School, cum laude. 
Energy Law Scholar:
Natacha Teresa Mesa Tejeda, Lecturer in Business Law, University of La Habana
Natacha Teresa Mesa Tejeda is a Lecturer in Business Law at the University of La Habana (Cuba). She studied Law at the University of Oriente (Santiago de Cuba), before completing an LLM in Business Law at the University of Barcelona (Spain) and a PhD in Law from the University of La Habana (Cuba). She has written extensively in the field of corporate law, commercial arbitration, and the law of foreign investments in Cuba.